Inditex And Mercadona presented their annual results this week, with improvements both in sales how in advantages. Two companies and their respective owners have raised their levels income And profit despite the economic context of growth expenses and when everyone in the household watches their pockets shrink.
Mercadona's president admitted that prices at its supermarkets have risen "outrageously." Juan Roig He had no problem with day-to-day recognition of tangible reality, although he argued that if they did, it was to avoid a "catastrophe" in the production chain.
with the march Railway Both companies were currently keen to signal that they would retain their respective headquarters in Spain. And both emphasized their tax contribution as well as the impact on their suppliers. Its largest shareholders, both Roig and Amancio Ortega himself, also contribute. But what contribution do each of them and their empires make to the Spanish economy?
Taxes: 1800 vs 2170
owner zara, Bershka or Stradivarius boasts the so-called "seat effect". The company, located in Arteijo (A Coruña), has no plans to move from the Galician town. At the tax level, Inditex paid 1.8 billion euros in Spain in fiscal year 2022, up from 1,501 in the previous year. As the CEO of the Galician Textile Group said last Wednesday, Oscar Garcia Maceiras949 million were direct and 860 collected. In total, there are 7.479 million taxes on 32.569 million billings in the world.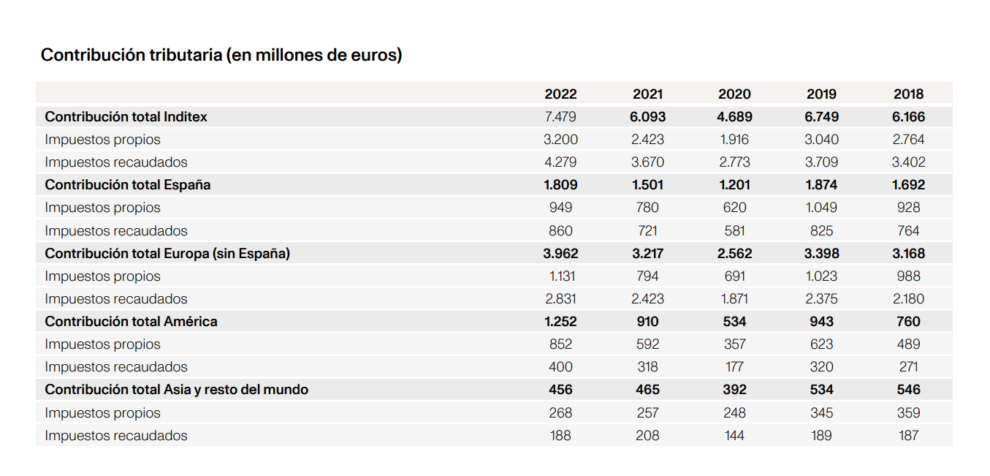 For its part, the Valencian supermarket chain paid 2.170 million euros in taxes in our country. The amount of direct taxes amounted to 384 million euros, of which 240 million in income tax. He also paid 831 million Social Security. On the other hand, he raised 163 million for the same organization, 435 million for income tax and 357 million for VAT the products he sells.
Payment to suppliers
In terms of impact on domestic producers, Inditex purchased from 6,750 suppliers of textiles and other goods worth 6,072 million euros. This figure also represents a historical record, similar to that achieved in both sales and profits. The textile giant posted a record $4,130 million net profit, becoming the first of Martha Ortega in front of the president. This means an increase of 27% year on year.
However, Mercadona wins the game in this area. The company works with 3,000 suppliers from whom it has made purchases worth €23,112 million. In addition, it partners with over 13,500 non-profit organizations and service providers, including 300 carriers, as detailed in its latest annual report.
The supermarket chain increased its net profit in 2022 by 5%, to 718 million, and its sales increased by 11% compared to last year, to 31,041 million (30,304 million in Spain). Despite this, as Roig recalled, the company reduced its profitabilityfrom 0.027 euros in 2021 to 0.025 euros.
Salary and dividends
Regarding salary, Juan Roig recognized the gross annual salary as executive president 11 million euros, for which, during a press conference proposed last Tuesday, he stressed that he pays 54% personal income tax for living in Valencia in addition to the heritage tax. Likewise, with just over 50% of the company's shares, he managed to pocket 88 million euros. dividend from allowance 2022. His wife, Hydrangea Herrerovice president and second shareholder of the company (30% of the capital), will also receive 45 million dividends.
The sum of both does not match what Amancio Ortega received from the profits of the group owning Massimo Dutti, Pull&Bear And oysho. The company marked good results with historical distribution of dividends. The founder and first shareholder of Inditex will receive 2,217 million euros in dividends from the company this year, more than the 1,718 million euros he received last year.
The company will pay its shareholders a remuneration of more than 3,730 million euros. after a dividend increase of 29%, up to 1.2 euros per share. This figure represents an increase of 29% compared to the previous year and assumes a total allocation of 3,700 million euros.
For its part, non-executive president of Inditex and daughter of the founder, Martha Ortegareceived an award of €834,000 for his first year in charge of the company, while CEO García Maceiras received €8.37 million.
Jobs: How much do your employees get paid?
Inditex has 164,997 employees worldwide. Spain has a population of 46,154 (33,749 women and 12,404 men). For its part, Mercadona employs 95,500 people in Spain and 99,000 people including Portugal. Of these, 58,255 are women and 37,245 are men. The company implemented a 5.7% salary increase based on the Spanish CPI and shared benefits by distributing 405 million euros among its employees (8% more).
The President of Mercadona during his speech explained that an employee who has worked for the company for four years earns 24,463 euros per year, to which two additional payments must be added, which total 3,300 euros. The figure without allowances is the amount charged by Inditex's store managers and central cashiers under the company's recent agreement with the unions UGT and CCOO, which sets a minimum wage of €18,000 for its store staff.
To this should be added other concepts included in provincial treaties. For example, seniority, commission or night work. The minimum will affect dependents and cashiers who have worked in the company for less than 18 months. Workers who have worked for the company from 18 months to four years will receive a base amount of 20,000 euros, and starting from this limit they will receive 22,000 euros.
Source: El Independiente